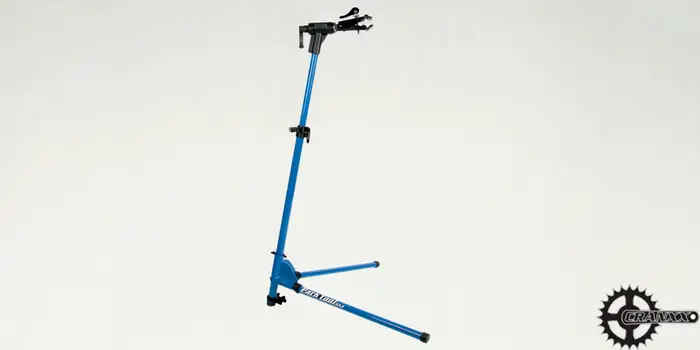 The PCS-10 is the gold standard for home repair stands. Park Tool has a long history of designing and producing versatile tools that meet the needs of the user. If you can afford the PCS-10 we recommend it as our top pick.
Features & Benefits
The Park Tool PCS-10 Home Mechanic Repair Stand was designed as a replacement (or upgrade) to the Park Tool PCS-9. While it's predecessor has been called the gold standard of bike work stands the PCS-10 actually improves upon a few things. It has a well-built and sturdy design that features a 3-point leg system with reinforced center yolk for superior stability.
The stand is rated at 100 lbs. (45 kg) which should handle just about any bike you can put on it – so long as the weight is centered over the legs.
The cam-type clamp allows single action clamping of tubes (24mm to 76mm | 7/8″ to 3″) and is said to be compatible with both round and aero seat tubes. The clamping pressure is adjustable and jaw covers are replaceable. There is a composite top tube for smooth 360-degree clamp rotation. The bike repair stand benefits from a quick-release height adjustment (39 to 57 inches) with legs that fold up for storage.
The total length when folded down is 41 inches. We found that it folded up nicely and was fairly portable. However there are other stands that we've tested that fold up into a bit smaller package and are better stored.
The total stand weight is 19.2 lbs.
With these features in mind, let's discuss our testing.
Testing the PCS-10 Home Mechanic Bike Work Stand
When we set out to test this bike stand we tried our hardest to replicate normal use conditions… then we added gasoline to that fire! We clamped bikes of all sizes and shapes into this little beast. Some of them caused it to wobble a little (picture a recumbent trike), other tests made us smile with the satisfaction that the workstand held up to the abuse. We tried pedalling the bikes while clamped in, bumping and nudging them, and torquing on it while we tried to remove the bottom bracket of our test bike. Overall we put it through its paces and from this abuse we have come up with our ranking and formulated our opinion.
Our Findings
The PC-10 is a great all around stand. Setup was very quick and it's incredibly stable. One of the best features is the leg configuration. They don't get in the way of where you're standing which makes its footprint smaller. It's a great all-around stand and the quality makes it shop quality.
One of the benefits we have when testing is that we can compare one stand to another instead of just our "impressions" of this one stand. With that in mind, we found that the Park Tool stand held the bike just far enough over the legs that you were able to pedal the bike while clamped without hitting the vertical bar.
This is not the case with other bike work stands so we were quick to note this. But, this was only the case with the road bike we tested – the MTB and Fatbike pedals still hit the stand when pedaling.
The good news was that it was still sturdy even with the larger bikes clamped and spinning.
It's a great stand however many of our reviewers said that they thought its price is pretty steep for most budget-minded cyclists. The value is certainly there, as is the warranty, but there are other stands that work just as well without the high price.
Rating: We've given the PCS-10 Home Mechanic Bike Work Stand a 4.75 star rating. A full 5 star rating is certainly justified however due to the higher price we had to rate it a bit lower. We're cheap around here!
Who should get this?
Here's the bottom line:We know some people are wholly dedicated to one specific brand. And Park Tool is not lacking in those diehard fanboys. Many bike wrenches swear by Park Tool as a brand – in this we don't necessarily disagree since they make some of the best stuff out there.
With that being said, it's important to note that just because this is "that special kind of blue", it doesn't mean that it's right for you. If you can handle the price tag then you'll certainly get a functional, durable and quality stand.
Who should avoid it?
People that don't know how to use tools and people who can't afford the higher price tag. If you only work on your bike occasionally you might be better suited looking at one of our top Value workstands.
Have you tried it? Add your rating and comments below!
PROS: Quick Setup, Light & Agile, Durable, Lifetime Warranty
CONS: Not recommended for cyclists on a budget, storage size isn't very small
This is a summary review for the PCS-10 Home Mechanic Bike Work Stand, if you want to read about
the best Folding Workstands,
then you need to check out our
Best Workstands Review.
---
About Park Tool:
Park Tool was born out of the necessity for a stand to assist the repair of bikes. Mechanics & cyclists would rather have a workstand that brought the bike up to the user's level – the first, PRS-1, did just that. As components on bikes advanced, it became necessary to produce tools to work with these new components, and in 1963 Park Tools came to life.
Now with a line of over 300 products, and distribution around the world, Park Tools are the largest bike tool manufacturer for bikes in the world, and continue to bring new innovations and solutions to the market every year. Their unmistakeable blue hue covers the walls of reputable bike shops and can be found in the hands of cyclists all over. Known for quality and cycling passion, Park Tool is one of the best manufacturers around. Visit the Park Tool site here