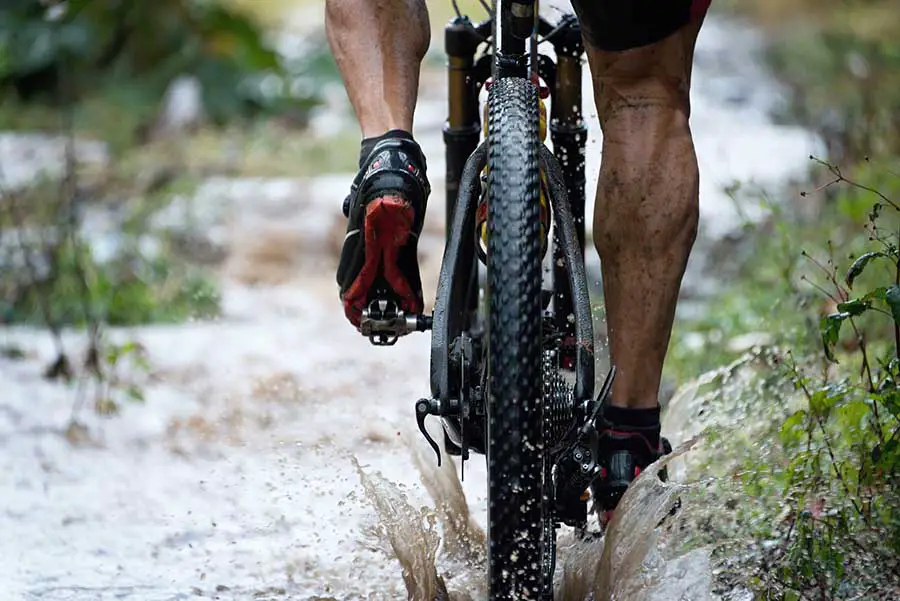 Mountain biking is an amazing way to stay in shape, meet new friends, and explore new areas. If you've recently walked into a bike shop you would have seen that there are several different types of mountain bikes. They come in various shapes, sizes, weights and brands (not to mention colors).
This is because there are a few different types of mountain biking (where you ride & how you ride) and with that comes various types of mountain bike races. So, how do you know which one will be best for you? We're going to dive into some of the different types and everything you need to know about them.
What are the different types of mountain bike races? Depending on the type of bike you have and what your main areas of interest are in the sport, you can find different mountain bike races that will be perfect for you. Here are the most common types of races:
Cross Country (MTB XC)
Downhill
Enduro
Trail Riding / All-Mountain
Dirt Jump
Freeride
Fat Bike (technically it's own category)
The popularity of mountain biking has continued to grow and expand into many regions with massive competitions. Each discipline of mountain biking has its unique appeal, as do the different types of races. They also all come with their own set of rules and aspects to keep in mind.
The Different Disciplines of Mountain Biking Explained
Many of the types of races listed also correlate to a specific discipline in mountain biking. The disciplines of mountain biking are like different types of skiing or skateboarding or any other type of extreme sport.
To many people, mountain biking is simply mountain biking. But there are different types of disciplines for different styles, terrains, and skill levels. Within those styles there will be different needs from you, your equipment, and the types of races that take place for each one.
"A Bad Day on The Mountain Bike Always Beats A Good Day in The Office" – Mike Brcic, Owner of Sacred Rides Mountain Bike Adventure
Source: Mpora
Competitions and Races in Each Discipline
Each of the disciplines offers its challenges, benefits, and unique experiences. The types of races and what you will encounter on them are equally as varied and satisfying. Whether you are just starting to mountain bike or have been doing it for years and looking to branch out to different disciplines, it's always smart to do your research ahead of time.
Here are some things to consider when looking at races that spark your interest:
What is your skill level?
What type of bike do you have vs. what you might need?
What is your fitness level?
How much travel might be involved in the best competitions in the discipline?
What other equipment will you need, if any?
Are you comfortable getting big air, or trying to stay grounded?
Cross Country Races
The sport of cross-country ("XC" or "MTB XC" are both frequently used as shorthand for cross-country) mountain bike racing has become increasingly popular in the past couple of decades. The sport received a huge boost when it was accepted into the 1996 Olympics, and to this day is the only form of mountain biking you will find in the Olympics.
Cross country is arguably the most popular and easily identifiable discipline for mountain biking. You can plan on long rides that encounter a wide variety of obstacles and terrains.
The type of riding you'll find in XC usually has many elevation changes, different trail types, varied landscapes and a range of technicality. MTB XC terrain can be a mixture of gravel roads, paved roads, single-track trails (like hiking trails), rock gardens, slick rock or purpose-built trail systems. You really do go "across the country".
Most races will list some sort of recommendations on skill levels that should apply to certain races. Other times, you may just decide on your own based on the course they have laid out and its difficulty levels.
The way to win at cross country races is to be a master of handling your bike while also having intense endurance that will power you through the end while others begin to fatigue. Most newer cyclists will need to work their way up to being ready for the fitness demands of a cross country race. Lower body and core strength will be the other piece of the fitness puzzle.
Most Popular Races
Of course, the Olympics will be topping the list of popular races in the cross-country discipline. USA Cycling will be your number one resource to learn more about how qualifying works and all the details for any Olympics hopefuls.
The Absa Cape Epic in South Africa is one of the toughest and most well-known races for those who excel in cross country mountain biking. The course changes every year, but it is always in the Western Cape area, which is known for its rugged and challenging terrain. 
The Sea Otter Classic in Monterey, CA, used to be known as one of the best cross-country races in the U.S. But it has since grown into a massive race offering other disciplines as well. It is now a huge outdoor sports festival that features an epic cross-country race.
Recommended Equipment
You should have full suspension bikes as well as short-travel hardtails. You also want your bike to be lightweight for the demanding hill climbs you will encounter. Descents are not as important in this style of race, but make sure you study the course's obstacles to make sure your bike will be able to handle any descents.
A lightweight, but a well-ventilated helmet will be the most comfortable and safe option for cross-country. And with the extended amount of time you will spend on your bike, a solid pair of padded bib shorts will be crucial.
Downhill
When people unfamiliar with the sport think of mountain biking, they are most likely picturing something close to the downhill discipline.
Downhill, unsurprisingly, is all about speed. Epic drops, high velocity, and challenging rock gardens or roots are all major components, making this a perfect discipline for daredevils. These races can be just as exciting to watch as a spectator, as well.
Instead of having multiple people racing around a course, all vying for the top spot to cross the finish line first, these are timed solo runs. The intensity of the courses would be too dangerous to have multiple riders all at once. This makes it a popular spectator sport, getting to indulge in watching one epic run after another.
Balance is key in downhill racing. Which means you need a strong core and strength over your bike. When you reach higher speeds, the bike automatically becomes harder to manage, but it is especially so when you are hitting tough terrain downhill.
Most Popular Races
The Downieville Classic Mountain Bike Race offers a 15-mile downhill race in Downieville, CA. It is a 4-day festival that brings mountain bikers from all around the world to enjoy and live it up with fellow enthusiasts.
The Downhill Mountain Bike World Cup in Lousã, Portugal, is a race that offers up some insane roots, jumps, and obstacles. For that reason, it has become a favorite training ground during offseason for locals and teams or individuals from across the globe.
Redbull Hardline is a downhill event hosted in Wales, UK, that tests some of the best in the discipline on their downhill skills. Huge jumps, technical obstacles, and boulder drops have become synonymous with this course.
Recommended Equipment
Downhill bikes need to have a longer rear and front travels. You will also find fewer gears or smaller gears to help offer better clearance over large obstacles. The rugged requirements of these races require a heavier bike, which will make uphill climbs much more difficult.
Full-face helmets with goggles and chest and back armor are all recommended for these races because of the demanding courses and risk of taking a dangerous spill.
Enduro
Otherwise known as All-Mountain, Enduro is all about the adventure and the journey. This discipline will typically take you to some incredible locations where you will face a steep climb up, and a timed ride back down going over rough terrain.
Enduro means you will most likely be spending the day in the mountains. It is a challenging type of race due to the unpredictability of the courses that weave throughout different mountain landscapes.
It will be similar to cross country in some ways, but a more advanced version of it. There are typically courses with larger drop-offs as well as some epic jump sections to get your pulse racing and your adrenaline needs met.
Most Popular Races
The Enduro World Series has been a popular race for skilled participants since 2013. It is a race for some of the world's most skilled Enduro racers to show off their talents on an intricately difficult coarse.
The North American Enduro Cup in Kellogg, ID, is an impressive race that also doubles as an EWS (Enduro World Series) Qualifier. They offer timed events, steep trails, stunning views, and local entertainment.
The Ard Moors Enduro in North York Moors, UK, boasts some of the roughest terrains you will find in Enduro racing. You will be climbing and descending around 2,500m throughout roughly 4-hours.
Recommended Equipment
Enduro bikes need to be extremely durable and require full suspension so that you can take on even the most demanding obstacles and trails. They need to be stronger than most XC bikes and will typically also need larger, more durable tires.
A full-face helmet is recommended as well as body armor and goggles to help deflect dust and debris that you will undoubtedly kick up on your routes.
Trail Riding / All-Mountain
Trail riding is essentially a more extreme version of cross country. You will encounter many of the same types of obstacles, but in more extreme fashion and on harder trails that will challenge you more.
Typically, trail riding will entail single tracks that go up and down on rugged terrain. There will be a mix of technical aspects to the course that require a high skill level, including features that allow the course to flow.
There will usually be more descending than climbing uphill on for most trail riding races but still be prepared for the occasional climb. If you are planning on training or riding for fun on any of these courses during off-season, it can be fun to explore further, which may mean some uphill battles.
Trail riding races are a mix of technical aptitude and control while allowing yourself to keep the flow and momentum of the course.
Most Popular Races
The Moab Rocks race in Moab, UT, is nestled in one of the most iconic mountain biking destinations in the country. They offer classic routes, new technically impressive tracks, and a great atmosphere around town during their annual race and festival.
The Whiskey Off-Road in Prescott, AZ, is an amazing desert race with options ranging from 15 to 50 miles for tracks. The race boats impressively challenging single-track courses with various obstacles along the way.
The True Grit Epic in St. George, UT, is a stunning race filled with technical terrain and either 46-mile or 100-mile course. The course changes slightly each year but typically offers at least 80% off-road tracks.
Recommended Equipment
A hardtail bike with around 120 – 130 mm of travel will be perfect for trail riding adventures. You will also want to consider full suspension for any bike you choose for a trail riding race. Wider handlebars, extremely durable tires, and highly responsive brakes will all be important for your bike on these trails.
A lightweight helmet or a full-face helmet should be worn, and gloves and body armor are both recommended for this discipline as well.
Dirt Jump
You guessed it – instead of trails weaving in and out of trees or roots, dirt jumping mountain biking is taking on manmade dirt jumps. Learning tricks and getting air are major components of this fun but challenging discipline.
This sport takes place in parks made for dirt jumping. The jumps and stacks are all placed strategically to provide a solid flow to the course, while also offering up some great obstacles and challenges.
Steep ramps for gaining speed to grab ultimate air will be placed throughout the course. The key to dirt jump racing is controlling the air you get and making yourself aerodynamic as you whip around the course.
Strength, control, and being acrobatic and comfortable in the air are all needed for this discipline.
Most Popular Races
The Red Bull Dreamline is an ultimate dirt jumping event where the best from around the world come to get some air. This wild dirt course is perfect for the world's best to show off their skills in front of elite judges.
Recommended Equipment
The bikes for dirt jumping will typically be simple when it comes to their design. You don't want added weight or features that are unnecessary to drag you down. This sport is all about tricks, air, and speed combining into one epic run.
A sloping design, lightweight bike with front suspension to absorb the shock will all be important. The rear suspension can be good as well, but the front is the more crucial area.
A light full-faced helmet will be the safest and most efficient for dirt jumping, along with body armor and gloves. Staying lightweight is key, so finding less cumbersome armor will be helpful.
Freeride
Freeride mountain biking is a marriage of dirt jumping and downhill riding. You will face steep declines and fast speeds while also hitting large drops, jumps, and sometimes even added manmade obstacles such as ramps or beams that were added into the trail.
Because of the combination of disciplines and added elements, freeride mountain biking has become a rapidly growing style.
Freeride is a unique style that pairs many different elements from other disciplines plus a little BMX action all into one. These races are extremely run to watch, and they have an energy all their own.
The U.S., Canada, Austria, and New Zealand have become popular destinations for many of the world's elite in freeriding.
Most Popular Races
The Crankworx World Tour in Innsbruck, Austria, is a mecca for freeride mountain bikers to fight for the top spot. Their courses are a wild ride of difficult obstacles that are both natural and manmade.
The Red Bull Rampage in Southern Utah brings together some of the world's best freeriders trying to take their skill to the next level. Their mix of cliffs, jumps, manmade obstacles, and opportunities for tricks and epic drops is second-to-none.
The Red Bull Joyride is another epic freeride race that brings top athletes to Whistler, Canada. It is the world's current largest slopestyle mountain bike race, spanning over ten days of races, festivities, and epic runs. 
Recommended Equipment
Rugged, highly maneuverable, and additional features like rear shocks equipped with steel-springs are all common elements of a solid freeriding bike. 26-inch wheels are typically recommended, of a high-quality brand that can be ready to take a beating. The key is finding a bike that always allows you to have precision and control at all times. 
With the amount of action you will see when freeriding, a full-faced helmet with goggles, and light body armor will all be recommended to keep you safe.
Mountain Bike Race Types
Mountain biking has become a wildly popular sport throughout the world. Whether you are looking for big air and wild tricks and endurance-driven course or insane natural obstacles that you encounter through the mountains – there are plenty of different mountain bike races to quench your thirst for adrenaline.